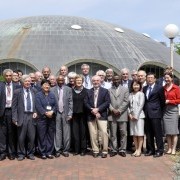 The IAP: global network of science academies (IAP) comprises 106 international science academies and is represented by an Executive Committee of 13 members. The Australian Academy of Science is a member of the IAP and ended its two terms on the Executive Committee in March 2013.
The IAP Executive Committee meets biannually and the Australian Academy of Science hosted the second meeting for 2013 in Canberra, from 30 October to 1 November. The meeting participants represented 21 international science academies and other international and regional scientific bodies. A highlight of the event was the opportunity for delegates to attend the 2013 Prime Minister's Prizes for Science gala dinner, and to congratulate the prize winners again at a breakfast hosted by the Academy at the Shine Dome the following day.
As well as discussing the important matters of the IAP, meeting participants visited Fadden Primary School in Canberra to see the Academy's science education program, Primary Connections, in action.
The Accademia Nazionale dei Lincei, Italy, will host the next meeting of the IAP Executive Committee in Rome in 2014.
Shine Dome,Gordon Street Australian Capital Territory