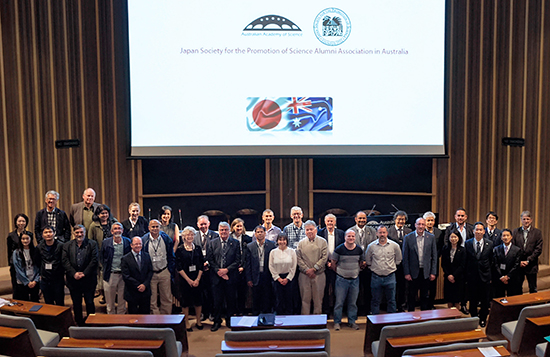 The Japan Society for the Promotion of Science Alumni Association in Australia (JSPSAAA) held its first science symposium on 9 and 10 October at the Academy's Shine Dome. Formally established in February 2017, the JSPSAAA membership consists of former and current JSPS fellowship recipients. Its aims are to engage Australian scientists with collaborative links to Japan and to enhance the strong bilateral science and research relationship between Australia and Japan. The Australian Academy of Science was involved in the establishment of the JSPSAAA and now supports the executive committee with the association's operations and in preparation for the launch. Currently the JSPSAAA membership totals more than 220.
The symposium was opened by the inaugural chair of the JSPSAAA, Associate Professor Graziella Caprarelli. Then the Academy's Vice-President Jim Williams gave a welcome address, acknowledging the history of collaboration between Australian and Japanese researchers. Professor Williams was followed by Minister Takashi Katae, from the Embassy of Japan, and Dr Mariko Kobayashi, the Director of the JSPS International Program Department, who both recognised the strong relationship between Australia and Japan in the context of science, trade and industry.
Two keynote talks were delivered by Japanese and Australian researchers. Professor Fumitoshi Ishino from the Tokyo Medical and Dental University talked about the gene traits acquired by marsupial mammals. Professor Graham Farquhar from the Australian National University, who is this year's Kyoto Prize awardee, gave a talk on water efficient crops analysed by mathematical model. Sixteen JSPSAAA members delivered presentations on topics ranging from molecular biology, fisheries and space science, reflecting the variety of research fields the members engage in. It is hoped that the symposium will enhance the role of members to act as a bridge between the two countries..
Prior to this symposium the Australian Ambassador to Japan, The Hon Richard Court AC, hosted a reception at the Australian Embassy in Tokyo to celebrate the establishment of the JSPSAAA and the inaugural science symposium in Canberra. Dr Yuichiro Anzai, President of the JSPS, highlighted the long-term nature of research collaboration between Australian and Japanese researchers, as evidenced by the fact that 2017 is the 40th anniversary of the signing of a Memorandum of Understanding between the Academy and JSPS. More than 50 representatives from the public sector and universities attended to celebrate the occasion.
More information: https://aas.eventsair.com/jspsaaa-agm-science-symposium/2017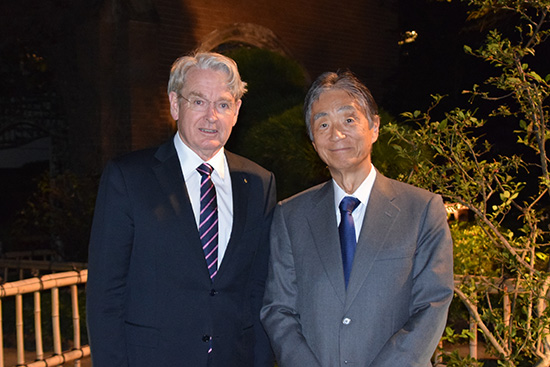 The Shine Dome ,15 Gordon Street Australian Capital Territory