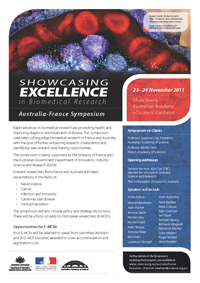 Rapid advances in biomedical research are promoting health and improving diagnosis and treatment of disease. This Symposium celebrates cutting edge biomedical research in France and Australia, with the goal of further enhancing research collaboration and identifying new research and training opportunities.
The Symposium is being supported by the Embassy of France and the Australian Government Department of Innovation, Industry, Science and Research (DIISR). Eminent researchers from France and Australia will make presentations in the fields of:
Neuroscience
Cancer
Infection and Immunity
Cardiovascular disease
Clinical translation
The Symposium will also include policy and strategy discussions. There will be a focus on early to mid-career researchers (E-MCRs). Opportunities for E-MCRs Four E-MCRs will be selected to speak from submitted abstracts and 20 E-MCR bursaries awarded to cover accommodation and registration costs.
Shine Dome,Gordon Street Australian Capital Territory