Caring for land and Country
Aboriginal and Torres Strait Islander peoples have lived in harmony with the land for tens of thousands of years, and have an intimate understanding of their local environments, built on centuries of observation and interaction with the land. Traditional knowledges encompass a wealth of information about local flora, fauna, weather patterns and ecological processes.
Indigenous land management practices often have a holistic and sustainable approach to the environment. Methods such as controlled burning, selective harvesting, rotational farming, seasonal resource management and community-based decision-making have been shown to promote biodiversity, restore ecosystems and maintain the health of habitats, ensuring the long-term availability of natural resources without depleting them.
By integrating Indigenous methods with non-Indigenous science, we can tap into this invaluable knowledge to enhance our understanding of ecosystems and develop more effective land management and conservation strategies.
Hear from our speakers about how they are both working to integrate Traditional knowledges with non-Indigenous science to care for land and Country.
Speakers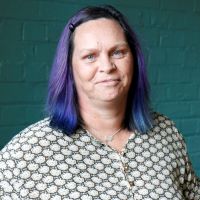 Ms Shandell Cummings
"Walking Together – bringing together cultural knowledge and western science – is the way forward!" —Shandell Cummings
Ms Shandell Cummings is a Merningar yorga (Menang woman) from the south coast of Western Australia near Albany. She is a First Nations artist, with varied experience in natural resource management, family violence case work and youth work. Shandell has been key in supporting many Western Australia based organisations with their Reconciliation Action Plans and the delivery of cultural knowledge and heritage awareness. Shandell is very passionate in sharing Aboriginal culture with the wider community and her art supports this. Shandell has also completed her Bachelor of Arts degree, majoring in Anthropology and Sociology, and Indigenous Knowledge Heritage and History. She lectures and tutors in these subjects at the University of Western Australia in Albany. Shandell is currently pursuing an exciting opportunity to undertake her PhD.
Shandell will speak about how Traditional ecological knowledge (TEK) has been key to caring for Country for thousands of years. She believes these processes must continue to occur, and the strongest chance we have is through intergenerational knowledge transfer (IKT) practices that are still conducted today.
Dr Fiona Walsh
Dr Fiona Walsh is an ethnoecologist working alongside desert and other Aboriginal peoples. She is based in Mparntwe (Alice Springs) on Arrernte Country, and works across Western Australia and the Northern Territory as an independent consultant. Previously a CSIRO research scientist and the Land Management Coordinator at Central Land Council, Fiona's transdisciplinary approach focuses on the voices and actions of Aboriginal people especially in relation to land care and land management, documentation of cultural knowledge and practices including bush foods and medicines, facilitation, and co-creation of media and experiences that support intergenerational and cross-cultural learning.
Fiona co-authors reports, chapters and journal papers and co-creates short and long-form documentaries and other media. Most recently, she was leading author on an article in Nature ecology & evolution, titled First Peoples knowledge leads scientists to reveal 'fairy circles' and termite linyji are linked.
Fiona will speak about the phenomenon of 'fairy circles' and how Aboriginal people's art and knowledge has helped scientists better understand Australia's desert ecosystems. She will discuss how strands of Aboriginal people's knowledge are woven with science-derived methods and findings to interpret a spatial pattern widespread across desert Australia but largely invisible to visitors and hotly contested internationally.
---
Event details
Date: Tuesday 8 August 2023
Time: 5.30pm – 7.00pm AEST (refreshments served at 5.30pm AEST, livestream starts at 6.00pm AEST)
Venue: The Shine Dome Canberra, and online
---
Thank you to our series convenors
Professor Tom Calma AO FAA FASSA (University of Sydney)
Dr Jordan Pitt (University of Adelaide)
Vanessa Sewell (University of New England)
Thank you to our series supporters
This event is part of the 2023 public speaker series. More information and event recordings are available on the series event page.