To set the scene for this year's speaker series we will look at the global movement recognising Indigenous knowledges.
Fifteen years since the National Apology to the Stolen Generations a referendum is now being planned on an Indigenous Voice to Parliament.
But just what are Indigenous knowledges? And how are they, or could they be, used to inform our modern world?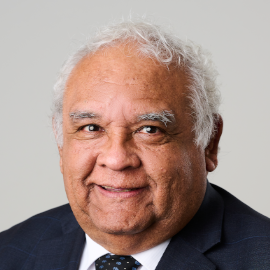 Host
Academy Fellow Professor Tom Calma AO FAA FASSA, an Aboriginal elder from the Kungarakan tribal group and a member of the Iwaidja tribal group, will host a discussion with other experts on this topic.
He was appointed an Officer of the Order of Australia in 2012 and named ACT Australian of the Year in 2013 and Senior Australian of the Year in 2023 for his work as a human rights and social justice advocate. Professor Calma was elected a Fellow of the Australian Academy of Science in 2022.
Professor Calma has long been a champion for the improvement and advancement of Indigenous peoples' health, justice, education, and employment status.
Panellists
Patricia Adjei, Indigenous Expert Reference Group, IP Australia
Stephanie Beaupark, University of Wollongong
Dr Chris Bourke, Program Director, Indigenous Science and Engagement, CSIRO
Nigel Crawhall, Chief of Section, Local and Indigenous Knowledge Systems (LINKS), UNESCO
Michelle Hobbs, Griffith University
---
Event details
Date: Tuesday 14 February
Time: 5.30pm – 7.00pm AEDT (online 6.00pm – 7.00pm AEDT)
Venue: The Shine Dome, 15 Gordon Street Canberra; and online
Cost: $15 in person, free online
Tickets
Both in-person ($15) and online (free) tickets are available for all events. Book tickets for this event.
You can also obtain an in-person ($75) or online (free) series pass for this year's speaker series prior to 14 February.
---
Watch
This is the first event in the Indigenous knowledges series. All event recordings can be viewed on the speaker series page.