1. What is immunisation?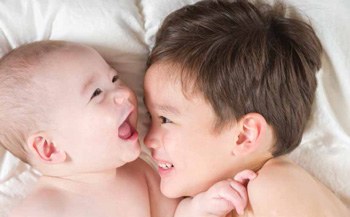 Immunisation protects against infectious disease
The purpose of immunisation is to prevent people from acquiring infections and to protect them against the short- and longer-term complications of those infections, which can include chronic illnesses, such as cancer, and death. 1-6
Vaccines work by stimulating the body's defence mechanisms against infection. These defence mechanisms are collectively referred to as the immune system. Vaccines mimic and sometimes improve on the protective response normally mounted by the immune system after an actual infection. The great advantage of immunisation over natural infections is that immunisation has a much lower risk of adverse outcomes 1,4,5,7-13 (see Box 2 and Questions 3 and 4).
Immunisation harnesses the body's own defence mechanisms
To understand how immunisation protects against the diseases produced by pathogens such as viruses and bacteria, we first need to understand how the immune system works. 14,15
The immune system consists of trillions of specialised blood cells, known as white blood cells, and their products, such as antibodies. These cells are located throughout the body, not only in the bloodstream, but also in lymph glands, the spleen, the skin, lungs and intestine.
The skin and the lining of the lungs and intestine are the first line of defence against infection. These tissues and the white blood cells located at these sites form the innate immune system (see Figure 1.1) 15,16. The white blood cells of the innate immune system (or guardian white blood cells) detect the presence of infection using sensors on their surfaces that recognise parts of pathogens or the toxins released by them. These fragments from pathogens or toxins are collectively known as antigens (see Question 2).
When guardian white blood cells detect the presence of pathogens, a second set of white blood cells (called lymphocytes 17) is activated (see Figure 1.1). Lymphocytes are categorised into two types: B-cells and T-cells. 18-20
T-cells respond to infections by releasing chemicals called cytokines, which trigger protective inflammation. Furthermore, T-cells can help combat pathogens by killing cells that harbour a pathogen hidden inside them. 21 B-cells, sometimes with help from T-cells, make antibodies, which are complex proteins that attach in a 'lock-and-key' fashion either to pathogens or to the toxins released by them. When antibodies attach to a pathogen, they flag it for destruction, and when they attach to a toxin, they neutralise its ability to cause damage. 14,15
In most cases, the outcome of these immune responses is termination of the infection followed by repair of any associated damage to the body's tissues. However, some infections outstrip the immune system's capacity to respond, leading to disease and sometimes death. By giving a vaccine before exposure to the infection, such serious outcomes can be avoided through generation of protective immunity in advance.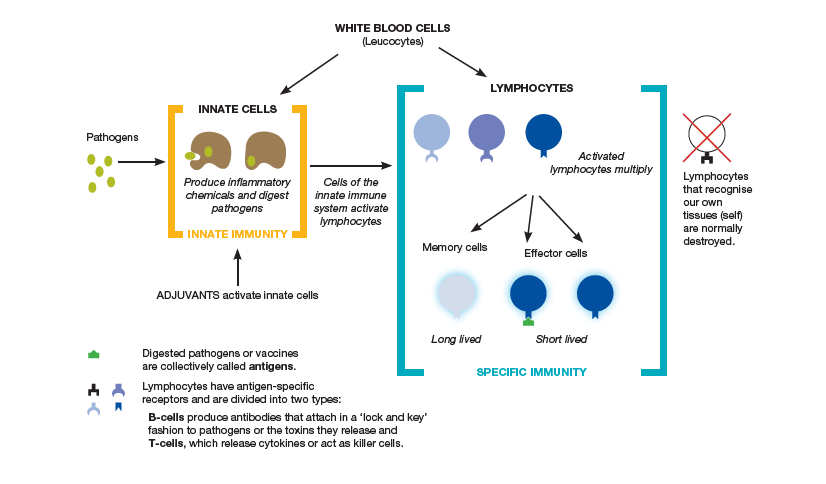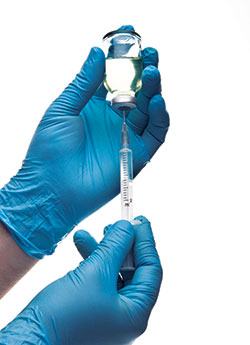 Immunisation is disease-specific
A healthy immune system has the capacity to generate hundreds of millions of T- and B-cells, each of which targets one particular antigen. Consequently, healthy people have the capacity to mount a protective response to essentially every infection they could possibly encounter during their lifetimes 22.
However, pathogens have evolved to overcome this defence and can sometimes overwhelm the immune response. Vaccines give the immune system a head start, providing valuable early protection against aggressive pathogens.
The specificity of these immune responses is the reason we need to have a separate vaccine for each disease. The capacity of the immune system to respond independently to each micro-organism in the environment also explains why the system cannot be 'overloaded' or damaged by giving the full range of currently available vaccines or by having multiple antigens in one vaccine preparation.
Vaccines harness the immune system's capacity for memory
When a pathogen is recognised by the immune system, individual lymphocytes not only make antibodies and cytokines against the infection, but also multiply quickly. As a result, the number of lymphocytes (T- and B-cells) specific for that infection increases greatly, enabling the body to fight the infection more efficiently. Most of the cells involved in immune responses live for only a few days as effector cells, but a small number of lymphocytes survive for months or years after the infection has been cleared and retain a 'memory' of the invading pathogen 15,23,24. In the case of measles, for example, that memory has been shown to last for more than 60 years 25.
The immune system's memory of infections it has been exposed to previously is one of its most valuable assets. This memory means the immune system is ready to mount a much quicker, larger and more sustained response if it encounters the same pathogen again (see Figure 1.2).
That response can control subsequent infection more efficiently, without leading to the unwanted and serious complications that can be associated with infection in non-immune people 15,23,34 (see Box 2).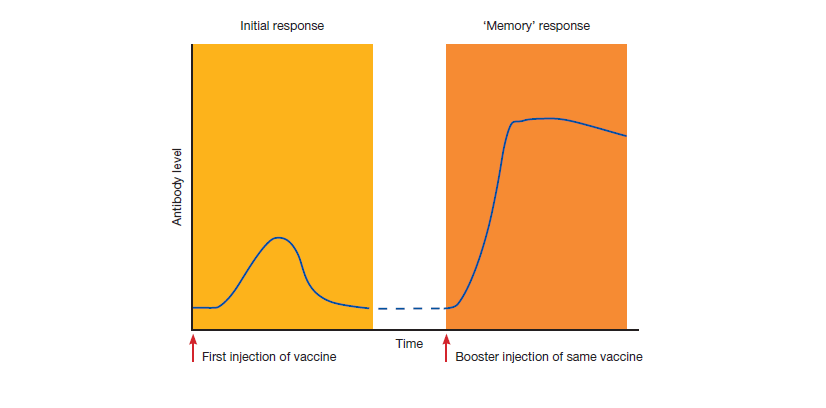 A successful vaccine, like the corresponding infection, can harness the immune system's memory capability by generating a population of long-lived lymphocytes (T- and B-cells) that are specific for the targeted pathogen 15,23,24. Again, the result is long-term protection against subsequent exposures to that pathogen and avoidance of the complications associated with a natural infection.
Infant vaccines work with the newborn immune system
The body's immune system begins developing before birth 26. In the period during and soon after birth, when the functions of the immune system are still maturing, newborns are protected against many, but not all, serious infections by antibodies from their mothers (maternal antibodies). This protection usually lasts for about four months.
These maternal antibodies cross the placenta into the baby's circulation before birth and are present in the mother's breast milk. If the mother has been vaccinated recently or has recovered from infection during pregnancy, the amount of antibody transmitted to the baby can be sufficient to ensure complete protection. On the other hand, if the mother's infection (particularly with the pathogen that causes whooping cough) or immunisation occurred a long time ago, the antibody levels may be lower and protection suboptimal.
The current immunisation programs are designed to balance the capacity of the baby's immune system to respond to the vaccine, against the risk of infection.
In the case of hepatitis B, for example, exposure to the virus at birth can result in the infant becoming a chronic carrier for life; hence the policy of starting vaccination within two weeks of birth.
The situation is different for other infections, which have a lower risk of infection at birth. Thus, administration of the Haemophilus influenzae type b (Hib) and pneumococcal vaccines is delayed until 6–8 weeks of age, when the infant's immune system can respond better. Moreover, the measles-containing MMR (measles, mumps and rubella) vaccine is not given until 12 months of age, when maternal antibodies against measles, which can interfere with vaccine responses, have essentially disappeared.
Passive immunisation provides immediate protection
Most vaccines work by actively switching on the recipient's own immune system to make the antibodies and memory cells needed to provide long-term protection against infection. Such 'active immunity' is the primary goal of all immunisation programs
However, this kind of active immune response takes 7–21 days to develop fully. Consequently, in the case of overwhelming infections, there is sometimes a role for 'passive' immunisation, which involves giving pre-formed antibodies obtained from healthy blood donors, as these can act much more quickly 15.