reSolve: Mathematics by Inquiry

'reSolve: Mathematics by Inquiry' is a national program to promote more relevant, rigorous and engaging mathematics from Foundation to Year 10. Resources for classroom use and professional learning are available free to all Australian teachers. More than 250 Champions of reSolve across Australia are committed to working with colleagues to promote a spirit of inquiry in school mathematics. To learn more and access resources, please visit www.resolve.edu.au
reSolve is managed by the Australian Academy of Science in collaboration with the Australian Association of Mathematics Teachers, and is funded by the Australian Government Department of Education and Training.
At the centre of reSolve is the reSolve: Mathematics by Inquiry Protocol. This sets out a vision for teaching and learning mathematics that underpins all aspects of the project.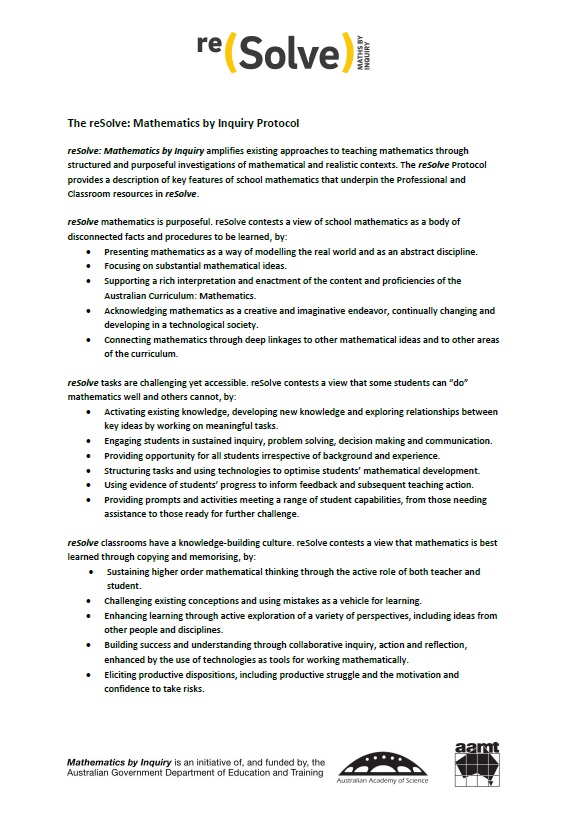 Background information
As part of the preparation for the reSolve program, the Academy conducted a desktop review of teaching approaches and learning resources for mathematics school education. The review recommended focusing on solving real-world problems mathematically, developing resources to promote reasoning and problem solving, and creating resources to build mathematics teachers' knowledge of mathematics and its teaching.
Read the review (PDF, 473 KB)
reSolve newsletter
Read our newsletter to keep in touch with what the team is up to. Sign up to receive the newsletter on a regular basis (one per school term).
reSolve Champions
Each of the reSolve Champions has undertaken a 12-month professional learning program focussed on developing communities of inquiry in school mathematics. To connect with a Champion in your area please email Matt Skoss at mskoss@aamt.edu.au.
Watch the video to see what some of our Champions are doing in their school.
reSolve team
Find out more about the reSolve team.
Contact details
reSolve: Mathematics by Inquiry
Australian Academy of Science
Ian Potter House, 9 Gordon St, Canberra ACT 2601
(GPO Box 783 Canberra ACT 2601)
mbi@science.org.au (+61) 2 6201 9490
www.resolve.edu.au
Mathematics by Inquiry is an initiative of, and funded by, the Australian Government Department of Education and Training.