reSolve: Mathematics by Inquiry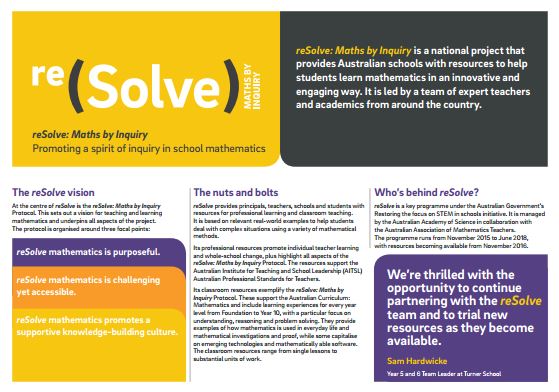 'reSolve: Mathematics by Inquiry' is a national program that provides Australian schools in Foundation to Year 10 with resources to help students learn mathematics in an innovative and engaging way. Resources are available free to all Australian students and teachers.
reSolve is managed by the Australian Academy of Science in collaboration with the Australian Association of Mathematics Teachers, and is funded by the Australian Government Department of Education and Training.
reSolve will engage with and draw from the work of leading teachers, principals and academics from around the country. The project team will work closely with educational jurisdictions, teachers' associations, teacher educators and principals to ensure that the materials and inquiry approach become a central aspect of every Australian mathematics classroom.
At the centre of reSolve is the reSolve: Mathematics by Inquiry Protocol. This sets out a vision for teaching and learning mathematics and underpins all aspects of the project.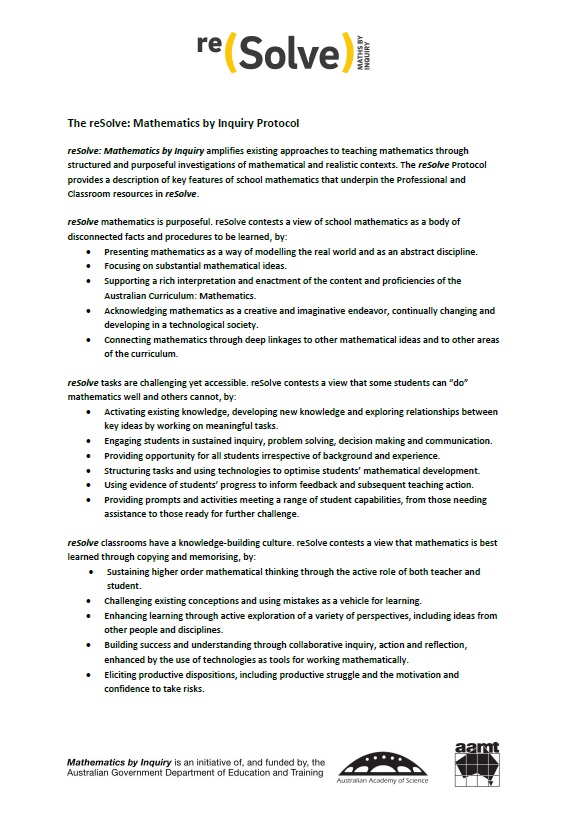 Background information
As part of the preparation for the reSolve program, the Academy conducted a desktop review of teaching approaches and learning resources for mathematics school education. The review recommended focusing on solving real-world problems mathematically, developing resources to promote reasoning and problem solving, and creating resources to build mathematics teachers' knowledge of mathematics and its teaching.
Read the review (PDF, 473 KB)
reSolve newsletter
Read our newsletter to keep in touch with what the team is up to. Sign up to receive the newsletter on a regular basis (one per school term).
reSolve team
Find out more about the reSolve team.
Contact details
To access the reSolve: Maths by Inquiry resources, please visit www.resolve.edu.au
reSolve: Mathematics by Inquiry
Australian Academy of Science
Ian Potter House, 9 Gordon St, Canberra ACT 2601
(GPO Box 783 Canberra ACT 2601)
mbi@science.org.au (+61) 2 6201 9490
Mathematics by Inquiry is an initiative of, and funded by, the Australian Government Department of Education and Training.