4. Are vaccines safe?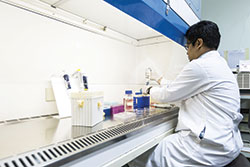 Benefits of vaccines outweigh the risks
Vaccines, like other medicines, can have side effects. However, all vaccines in use in Australia provide benefits that greatly outweigh their risks 1,4,5,7-10,12,13.
Most reactions from vaccination are minor
The great majority of side effects that follow vaccination are minor and short-lived. The most common side effects for all vaccine types are 'local' reactions at the injection site, such as redness or swelling, which occur within hours and are clearly caused by the vaccine. More general or 'systemic' reactions, such as fever or tiredness, can also occur after vaccination, but careful studies have shown that they are much less common than local reactions 73.
Local reactions are outward signs that the vaccine is interacting with the immune system to generate a protective response. The nature of these reactions varies, depending on the type of vaccine given.
For example, if a person develops a fever due to an inactivated vaccine, they almost always do so within 24 to 48 hours—the time when the immune system is making an immediate response to the components of the vaccine. In contrast, the onset of fever caused by a live attenuated vaccine, such as the MMR vaccine, is delayed for seven to 12 days because this is the time needed for the attenuated virus in the vaccine to multiply sufficiently to induce a protective response from the immune system 74,75.
Some adverse events coincide with, but are not caused by, vaccination
Symptoms such as fever, rashes, irritability and nasal snuffles are common, especially among children. Consequently, it can be difficult to determine how many of these reactions are caused by a vaccine when the 'background rate' (how often it occurs anyway) in the same age group is unknown.
In some cases, these kinds of reactions may be caused by the vaccine. But in other situations, the symptoms may be unrelated, occurring by chance at the same time as the vaccination. For this reason, scientists refer to these kinds of symptoms as adverse events following immunisation to indicate that events that follow vaccination may not be caused by the vaccine.
One unique study from Finland addressed this issue 74. Researchers analysed common symptoms in 581 pairs of twins after one twin received the MMR vaccine and the other was given a dummy vaccine (a placebo). Between one and six days after the injection, the number of adverse events in the twin who received the MMR vaccine was almost identical to those in the twin who received placebo 74 (see Figure 4.1). Between seven and 12 days after the injection, the vaccinated group had a measurable increase in symptoms that are known to be associated with administration of the attenuated measles vaccine, such as fever, irritability and rash. On the other hand, no difference between the two groups could be detected over that period in the frequency of coughand cold-like symptoms—which occur commonly with or without vaccination. Moreover, even some of the symptoms known to occur after MMR vaccine were also seen in the group who received placebo, but at a lower rate.
In summary, this valuable study showed that many common symptoms that occur after a vaccine is given are not caused by the vaccine, but occur by chance at that time.
However, safety surveillance systems in countries like Australia require health care providers to report adverse events that occur following vaccination regardless of the cause. The reports are compared with historical trends to identify any changes that require special investigation and to assess whether adverse events are vaccine-related. For example, new vaccines are often reported more often than old vaccines, and reported events decrease as health carers gain familiarity with the vaccine. It can be misleading to rely on the reported raw numbers of adverse events, as a number of factors must be taken into account to determine if an event is coincidental or caused by the vaccine. The vast majority of adverse events are coincidental.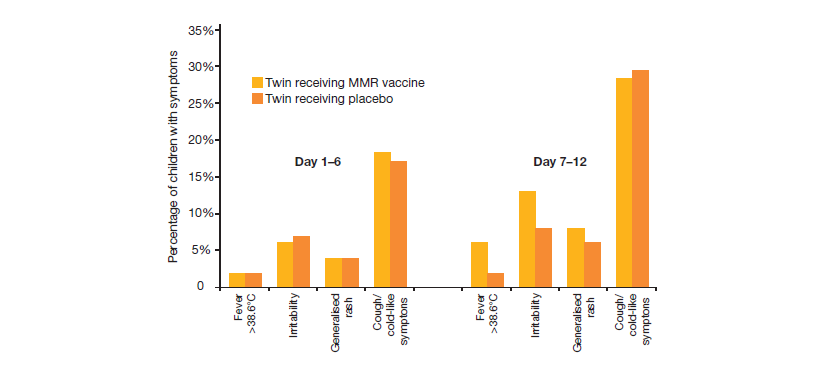 Serious side effects from vaccines are extremely rare
Potentially serious side effects, such as transient febrile seizures, have been reported after vaccination. However, such severe side effects occur much less often with the vaccine than they would if a person caught the disease itself 1,8,10.
This is well illustrated in young children by comparing the frequency of adverse events from the MMR vaccine with the frequency of adverse events with measles itself (see Figure 4.2).
Figure 4.2: Severe complications due to MMR vaccine and measles among 1 million children aged under 5 years.
MMR vaccine
Measles
Uncommon complications
300 children have seizures
10,000 children have seizures or convulsions induced by fever
Rare complications
26 children have a temporary tendency to bruise or bleed more easily (thrombocytopenia)
330 children develop thrombocytopenia
Very rare complications
Up to four children get a severe allergic reaction (anaphylaxis). This is readily treated with complete recovery
No anaphylaxis cases
No children will get subacute sclerosing panencephalitis (SSPE). SSPE causes progressive brain damage and death
10 children get SSPE several years later
Uncertain; a maximum of one child may develop inflammation of the brain (encephalitis). Encephalitis from any reason may result in permanent brain damage or death
2000 children may develop encephalitis
About three in every 10,000 children who receive the MMR vaccine develop a fever high enough to cause short-lived seizures. In contrast, the risk of such a fever is more than 30 times greater among children who develop the disease—affecting about 100 in 10,000 children 8, 10. Importantly, worldwide measles vaccination was estimated to prevent 9.6 million deaths from the infection during 2000 5. Similarly, around one in 10 young children develop a fever after receiving influenza vaccine 3, whereas around nine in 10 children develop a fever after a proven influenza infection 76.
he frequency of side effects associated with some earlier vaccine preparations (no longer in use in developed countries such as Australia) was higher than with the current generation of vaccines. Lastly, some alleged links between administration of certain vaccines and onset of diseases, particularly when the causes are unknown, have proven to be unfounded (see Boxes 8, 9 and 10).