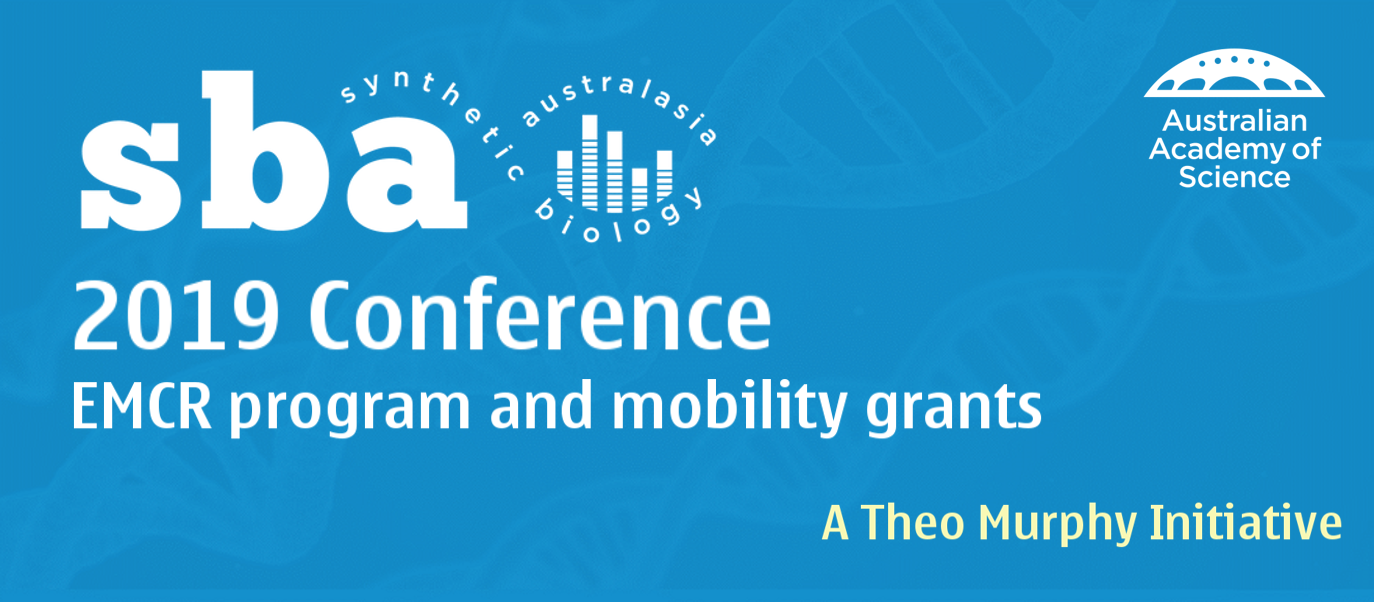 About the conference
The Synthetic Biology Australasia (SBA) 2019 conference will offer academic and industry researchers working in synthetic biology the opportunity to come together and present their current research and share ideas and findings on the future of this exciting field.
The conference will run from 14 - 16 October 2019 at Customs House in Brisbane. The conference aims to bring together researchers from all disciplines, levels and sectors to discuss and define the directions to one of the fastest growing areas of modern science.
The event will feature inspiring talks by some of the leading international and Australian scientists in synthetic biology, as well as opportunities for early and mid-career researchers (EMCRs) to showcase their research.
EMCR program
As part of the conference program, the Theo Murphy Initiative (Australia) will be sponsoring events dedicated to supporting EMCRS in their careers and ultimately further scientific discovery.
Registered attendees will have the opportunity to join the following EMCR specific events to support their careers during the event:
ECR Open Circle discussion on career progression in synthetic biology on Monday 14 October.
EMCR Networking session on Monday 14 October.
Panel on kick-starting the Australian bioeconomy with synthetic biology on Wednesday 16 October with the following speakers:

Dr Ky Barker, Patheon
Dr James Brown, Bondi Bioworks
Dr Nandhitha Subramanian, Codexis
Professor Kirill Alexandrov, Molecular Warehouse
Mr Matt Gardner, California Technology Council
Mr Tony Hunter, Futurist for Food (panel facilitator)
Mobility grants to support EMCRs
Applications for mobility grants are now closed.
The Theo Murphy Initiative (Australia) is also offering a number of mobility grants to support a diversity of EMCRs to attend the event.
The mobility grants are designed to offset the expenses associated with attending SBA 2019 for those EMCRs who may not be able to attend without support and/or people from traditionally underrepresented demographics.
The mobility grants can be used to cover costs associated with attendance to the event, such as registration fees, caring responsibilities, travel, accommodation and other support required to facilitate your attendance.
Who can apply?
We encourage applications from carers, persons with disabilities, women, Aboriginal and Torres Strait Islander people, and those from regional Australia.
Grants are restricted to EMCRs residing in Australia.
Eligibility
Early- and mid-career researchers who have received their PhD within the last 15 years (excluding any periods of career interruption) are eligible to apply. You must be a member of the EMCR Forum to apply. It is free to sign up as a member.
Applicants must submit an abstract to the conference to be eligible to receive a mobility grant. Abstract submission for the 2019 conference closes on 22 July 2019.
Apply for a mobility grant by completing the online application form.
Submit your application by Monday 12 August.
Application outcomes will be notified in mid-August.
If you have any questions about the mobility grants, please contact us at emcr@science.org.au
The Theo Murphy Initiative (Australia)
The Theo Murphy Initiative (Australia) supports activities which provide tangible benefits to Australia's early- and mid-career researcher (EMCR) community, with the overall goal of furthering scientific discovery. Activities are managed by the Australian Academy of Science and funds are made available by the generous support of the Royal Society through the Theo Murphy (Australia) Fund.
Customs House,399 Queen Street Queensland